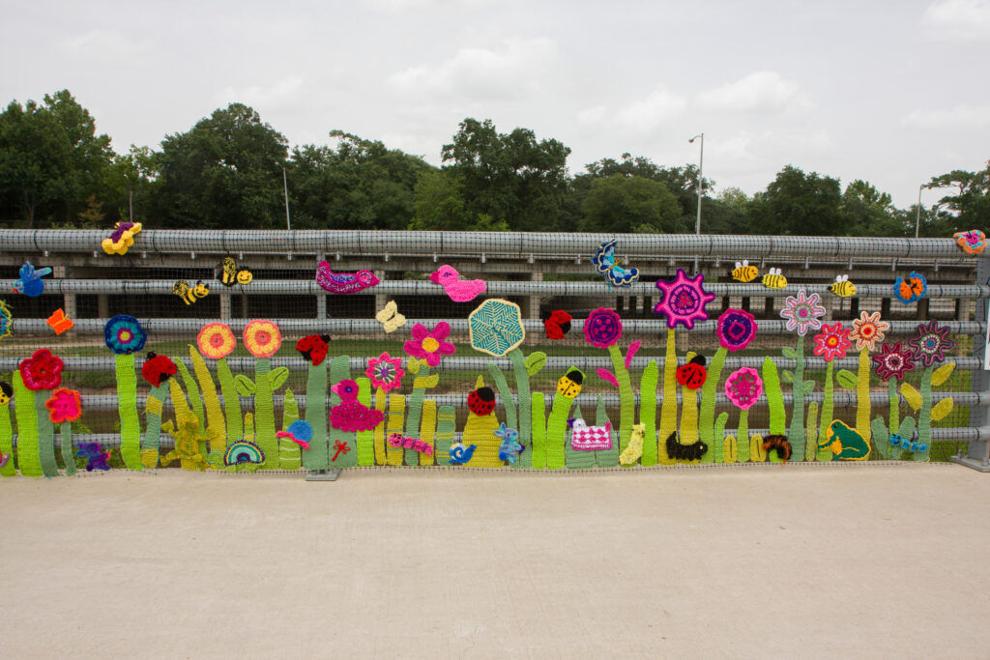 Bridge art from Urban Yarnage in 2015. Photo by Carl Irving

Carl W. Irving

Starting this Saturday, October 3rd, the Buffalo Bayou Partnership is hosting the Artful Anniversary, a series of five unique virtual performances and experiences in October, to mark the fifth anniversary of the completion of Buffalo Bayou Park.
All five Artful Anniversary programs will be posted in videos and photos on the BBP website at the times specified on the website website, https://buffalobayou.org/buffalo-bayou-park-5-year-anniversary/.
In addition to visiting the website, you can visit the park in person and enjoy music, dance, and the arts, as well as Houston's 160 acres of award-winning green space. Both online and in person can be visited free of charge.
The first exhibition to be installed on Rosemont Bridge is best attended in person and at the beginning of the month. Time and elements can interfere with viewing this first exhibit, and color and complexity are difficult to grasp "virtually".
The work of art entitled "Knitscape" is reminiscent of the ecological diversity of Buffalo Bayou. Knitscape is also made of… yarn.
Enter Heights' yarn bombers, Urban Yarnage, an ad hoc group of Houston knitters and crocheters who design and develop fiberglass street art projects. The group installs an annual project in early June as part of International Yarnbombing Day.
Urban Yarnage assembled and installed Knitscape early Saturday morning.
According to the website of Urban Yarnage's founder Mary Goldsby, yarn bombardment originally began as a subversive underground form of street art. Similar to graffiti art, yarn bomb installations have evolved over time that encompass all types of fiber art projects. Yarn bombing is now a national and international art movement that includes projects ranging in scope from very small to extremely large.
Goldsby started their group in 2012 when they covered 44 bollards with yarn cuddles along the Heights Hike and Bike Trail, which runs along 7th Street between Yale Street and Heights Boulevard.
It's about having fun and adding some color to the world. The group has installed work on (or around) a cart, dinosaur bones (a sculpture of one), 135 bamboo poles, pumpkins, light poles, and in 2015 a bridge over Buffalo Bayou to celebrate the completion of Buffalo Bayou Park in the first year of Buffalo Bayou Partnership.
Goldsby was thrilled that Urban Yarnage was invited to participate in the fifth anniversary. She told me that they worked on it for about six weeks. Despite my wrong ideas, a lot is planned and organized. However, the result will make everyone smile.
"The new installation is a magical nature-themed knitscape that highlights the ecological diversity of Buffalo Bayou with a fun and colorful installation featuring a giant vine crawling along the railing of the Rosemont Pedestrian Bridge," said Goldsby. "The vine undulates along the railing with giant flowers, snakes, snails and caterpillars in an Alice in Wonderland-themed adventure. The project also includes a colorful bayou display at the bridge entrance from Allen Parkway and a meadow display at the bridge entrance from the memorial side. "
Some of the work that goes on behind the scenes includes designing, assigning the knitters, organizing who is creating what, helping the installer, organizing those long pieces, daily maintenance and repairs.
Due to COVID-19, Goldsby was unable to take the other knitters into her home for the gathering this year. She has to do this on her own. Nevertheless, the result after the installation this Saturday will be worth it. Goldsby showed me a small part of the vine with the huge flowers, snakes, snails and caterpillars and it is really amazing.
The Rosemont Bridge spans Memorial Drive and Buffalo Bayou and connects the two sides of Buffalo Bayou Park, west of Eleanor Tinsley Park and east of Studemont-Montrose Boulevard Bridge.
Visit Urban Yarnage at urbanyarnage.com.
Cohen is an artist and founder of the First Saturday Arts Market and the Market at Sawyer Yards. Find him on ArtValet.com for more highlights and artist stories.