Millions of US consumers want to speak to someone in their native language about their insurance. (Photo: Shutterstock)
Publisher's Note: PropertyCasualty360.com strives to share a wide variety of perspectives from insurance professionals worldwide. In celebration of National Hispanic Heritage Month, we're excited to share the following article. To read this article in Spanish, please click here.
I am blessed to have been born into Latin American culture – my parents immigrated from Cuba – and to have got a part-time job with an insurance agency at the age of 19 to start my career in the independent agency culture.
Personally, I know how much these two cultures need each other, whether Venezuelans who recently fled to safety in Miami, Cuban families up to the second or third generation in the US, or others.
I remember talking on the phone to an English speaking health insurance representative when I was 12. At my side was my mother, who felt most comfortable in her native Spanish and could not yet fully communicate her questions in English. Since I'm bilingual, I could work with both of them to help them understand each other.
I still do that – as an independent agent with added value with a prospect or customer on the one hand and the freight forwarder on the other. How are the needs of Latin-speaking cultures in the United States evolving? You are looking for the American dream. They work. You are buying a car. They marry. They are buying their first home. You are starting a company.
As my parents' own restaurant business grew, they looked for an independent agent who spoke Spanish and was Cuban. Why? They wanted to feel comfortable asking questions to someone who understood their culture. Millions of US consumers like my parents want to speak to someone in their native language about their insurance. A pleasant consultation makes the difference.
Everyone is afraid to ask stupid questions. However, as agents, we want every prospect or customer to ask questions so we can inform them about policies, coverage, and claims.
Unfortunately, new immigrants sometimes become targets for deception or fraud. I've seen insured people in Florida being taken advantage of by someone who sells insurance. And with Hurricane Irma in 2017, public adjusters and roofers knocked on doors, luring homeowners to file claims by pointing out a roof condition or other problem. Of course, when the claims were denied, the homeowner's insurance companies suspected the roof was in some way defective and either increased the premiums or canceled the policies.
Another situation was that of a Latin American homeowner who bought a first home after seven years in the United States. When buying insurance from a broker, he was charged two premiums in the same year. It turned out that the agent did not pass the premiums on to the insurer and the customer never had the coverage. An agent can prevent such things from happening.
These situations require trusted independent agents who are attuned to customers' cultures and languages ​​to answer questions, provide the right coverage, and move up at the time of claim.
As in other cultures, many Latino families are generational. My daughter, a second generation American, prefers to research and shop online. Young adults often buy insurance online as if they were buying anything else. However, it is not uncommon for them to find at the time of claiming that they may not have made the right decisions.
As an independent agent, I enjoy working not only with prospects and clients, but also with my colleagues and independent agency professionals through the AIMS Society (American Insurance Marketing and Sales), which offers training in these key areas, as well as through The Institute. I tell my students that insurance isn't just about selling:
Think of yourself as a consultant. Every time you speak to a prospect or customer, make sure they are in an advisory capacity. This enables them to better understand what they need and what they are buying. You will also learn more about your customers. Remember, my parents wanted someone to speak their language so they could have counseling sessions. It's still true today.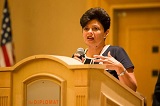 Dulce Suarez-Resnick, AIS, CPIA, CPIW, ([email protected]) is Vice President and Sales Producer in Miami for Acentria Insurance, a national insurance agency with 12 offices in Florida, Louisiana, Georgia and South Carolina. She is the secretary of the AIMS (American Insurance Marketing and Sales) Society, a nonprofit that provides training, information, and networking to increase the personal and agency sales production of property and casualty insurance agents. The opinions expressed here are those of the author.
Read this article in Spanish.
Connected: