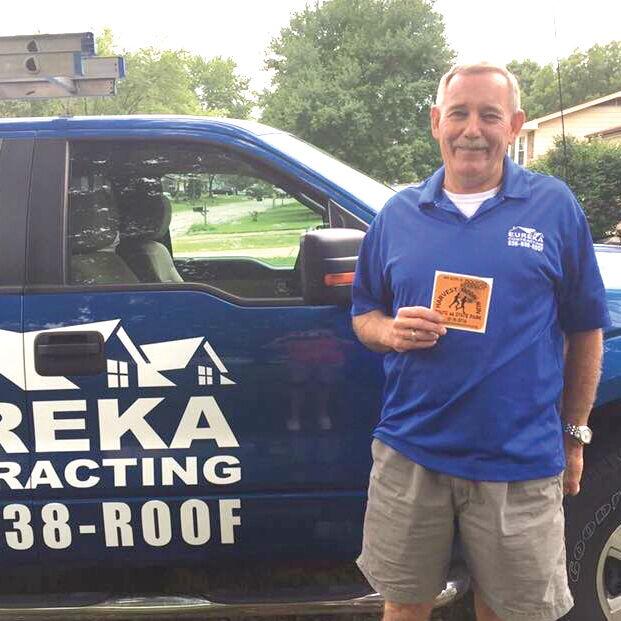 Rick Hinkson with Eureka Contracting and Roofing.
Eureka Contracting and Roofing combines modern, traditional methods
Eureka Contracting and Roofing uses every tool available to provide the best service to its customers, said owner Rick Hinkson.
He said his Eureka-based company uses drone technology, infrared cameras, and moisture meters to inspect potential projects, but his staff also make sure they use traditional, hands-on methods to inspect projects.
"If you take a drone or get a satellite image of a roof, it gives us a general picture of the conditions," said Hinkson, whose business is at 128 S. Virginia Ave. and offers roofing services for residential and commercial buildings.
"But to really know what the state is like, we have to step up and look at everything. We use modern technology, but we also rely on our practical approach. "
According to Hinkson, his company works with about 25 real estate agents in the St. Louis area to inspect the roofs during the buying or selling process. He said the inspections were free.
"We provide a brief report with photos that identify everything we see," said Hinkson. "We'll also let them know if there's a possibility of an insurance claim."
Jordyn Guest, office manager for Eureka Contracting and Roofing, said the company works well with brokers, homeowners and home buyers when it comes to selling or buying a home.
"We do our best to meet the inspection deadline during the home sale or purchase process," said Guest.
Eureka Contracting and Roofing is a second career for Hinkson, who spent 35 years in the insurance and construction industries. He said he started the roofing business in 2008.
According to Hinkson, one of the keys to the company's success is keeping in touch with customers.
"We answer the phone," he said. "We offer a very personal approach to our business."
For more information on Eureka Contracting and Roofing, please visit eurekacontracting.com or call 636-938-7663.