We have now officially entered the 2021 Atlantic Hurricane season, which will last until November and is likely to wreak serious havoc. Scientists and researchers from Colorado State University (CSU), Tropical Storm Risk (TSR), North Carolina State University (NCSU) and AccuWeather expect above-average activity and forecast 12 to 15 tropical storms) Atlantic, according to Allianz Global Corporate & Specialty's (AGCS.) Hurricane Season Outlook 2021. The report notes that an above-average season is typically characterized by seven to nine storms reaching hurricane strength and two to four becoming large hurricanes.
Spray polyurethane foam roofs provide a protective layer and act in a unique way as a thermal insulator, air barrier, vapor barrier and sealing solution.
Storms and hurricanes remain a major problem for owners and operators of commercial buildings. The damage caused by the not-too-distant Hurricane Laura and others in 2020 is still in the foreground. Without a doubt, storms and hurricanes have increased steadily in both intensity and frequency in recent years, and their physical and financial damage can be catastrophic. As a result, many commercial facility owners are increasingly checking their roof coverings to ensure that their structures are protected from possible damage. This represents an important opportunity for contractors to offer their business customers weatherproof solutions.
An inexpensive roofing option that can withstand wind, water, and inclement weather is the spray foam roofs. The material has not only proven itself in severe storms, but is also an optimal re-roof solution that can be installed directly over an existing roof, which saves system owners time and money.
About spray foam roofs
Spray Polyurethane Foam (SPF) roofs are ideal for a variety of commercial, agricultural, industrial and residential applications on most new and retrofitted roofing substrates. The rigid material is a high density, closed cell, spray foam variety at about 2.8 pounds per cubic foot. As a roof covering, spray foam provides a protective layer and acts in a unique way as a heat insulator, air barrier, vapor barrier and sealing solution.
The roof system locks every part of the roof, eliminating the need for mechanical fasteners. The material can be used when the roof has an unusual configuration or shape, or when a sloping application is required to ensure controlled drainage (it is also ideal for flat roofs with regular shapes).
The adhesive properties of the material make it particularly ideal in hurricane-prone regions such as the Southeast, the Gulf Coast and Puerto Rico, as well as in places where severe weather, storms, wind, hail and other conditions are common. The durable, monolithic membrane created by spray foam over the roof provides a compressive strength of approximately 40 to 55 pounds per square inch. It changes little over time and, with proper maintenance, will last 30 years or more.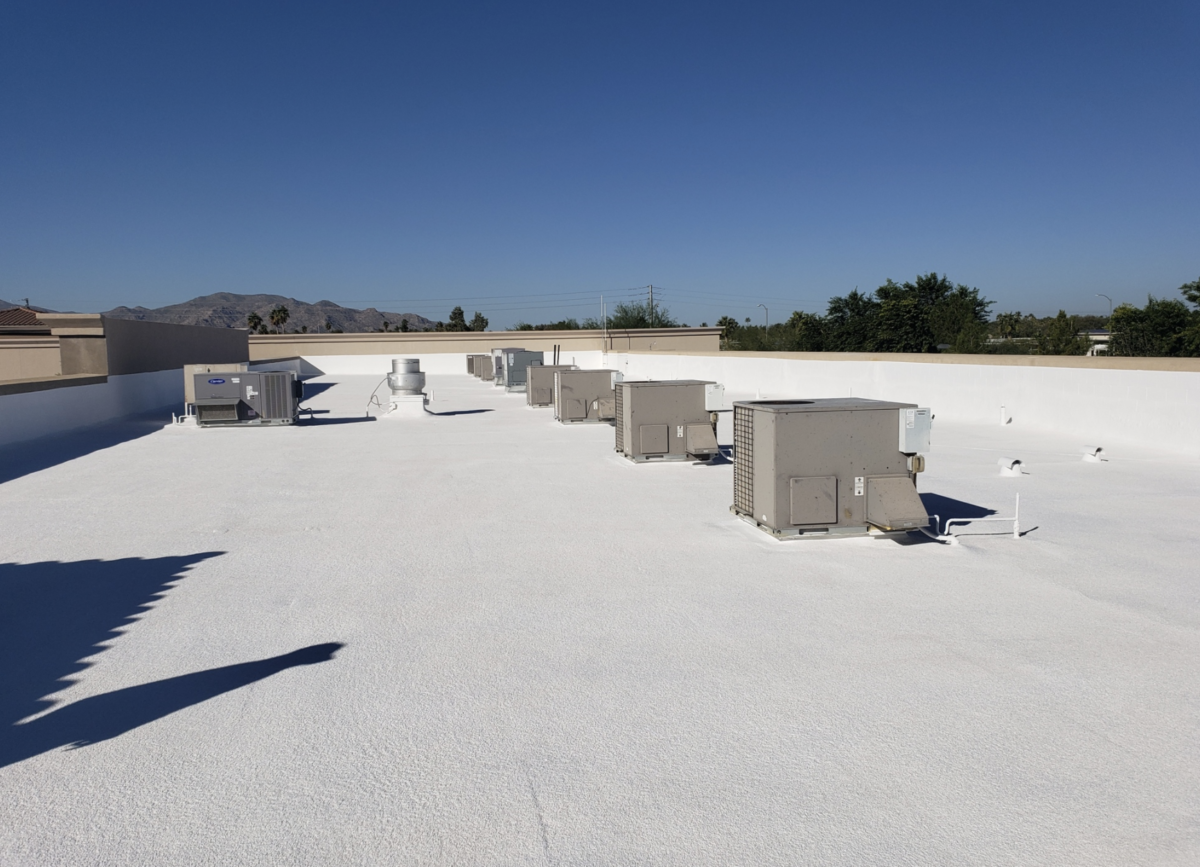 Spray foam roofs increase the wind suction resistance when laying on the roof substrate and when applied to concrete, the wind suction protection is even stronger. Some high performance spray foams also exhibit wind suction resistance by meeting the Florida Building Code's High Velocity Hurricane Zone (HVHZ) criteria.
As a roof solution, spray foam also resists the peel failure caused by wind pulling metal sheets and covers away from the roof edges, which can ultimately lead to devastating damage to the structure. In addition, the material's ability to withstand hail leakage is also unmatched.
In a notable review of the material's real-world performance, the National Institute of Standards and Technology (NIST) reviewed roof damage following Hurricane Katrina and found that buildings covered with spray foam worked well without blowing off the SPF or damaging the sheet metal. NIST's 2006 report (Performance of Physical Structures in Hurricane Katrina and Hurricane Rita: A Reconnaissance Report) found that only one of the SPF roofs examined had suffered significant damage and concluded that spray foam left the roofs intact held, prevented the penetration of moisture into the buildings and protected the structures from hail and rubble.
Use as a temporary solution after a storm
When a storm crosses a region and has damaged and damaged the roofs of commercial facilities, spray foam roofs can also be used as a temporary solution. For example, contractors dealing with roofs that have parts of shingles or metal decks blown away during a hurricane or storm often place spray foam roofs over the damaged area to keep the roof intact and reduce water damage and the interior and property of the Protect the structure in the meantime until the entire roof can be replaced.
Energy efficiency
In addition to the physical and financial effects of the worsening weather on Earth on commercial establishments, it also dramatically affects their energy use and costs. Extreme heat or extreme cold, rising energy bills are affecting the bottom line of many property owners.
Just as important as its resistance to weathering, spray foam also prevents heat transfer through the roof, minimizes the escape of conditioned air and thus drastically reduces energy costs for the life of the roof. In fact, the seamless insulation and sealing properties of spray foam roofs can help reduce a building's energy consumption by up to 40 percent. It is precisely this energy efficiency that has led to the fact that spray foam roofs, as well as their sister solution, spray foam insulation (a FEMA class 5 material when used in walls, ceilings and floors), are increasingly selected for use in commercial buildings designed to achieve net zero Energy to achieve.
Training and preparation of commercial customers
Roofers are encouraged to take the growing number of storms seriously. The progressive development towards increasingly serious weather events has not subsided for some time. The need for commercial property owners to best prepare their properties for storms is greater than ever and they rely on the experts in the industry to help them choose their roofing options.
About the author:Dave Feitl is VP Global Roofing and Western USA SPF Sales at Huntsman Building Solutions, a leading global manufacturer of spray foam roofing and insulation. The company's solutions are used worldwide to optimize commercial and residential buildings, both in new construction and in retrofitting. Visit Huntsman Building Solutions at www.huntsmanbuildingsolutions.com and contact Dave Feitl at [email protected]
Like this:
Like Loading…