Stirling umbrella company admitted to the Masters' Guild
family business Old plean roof was admitted to the prestigious Guild of Masters.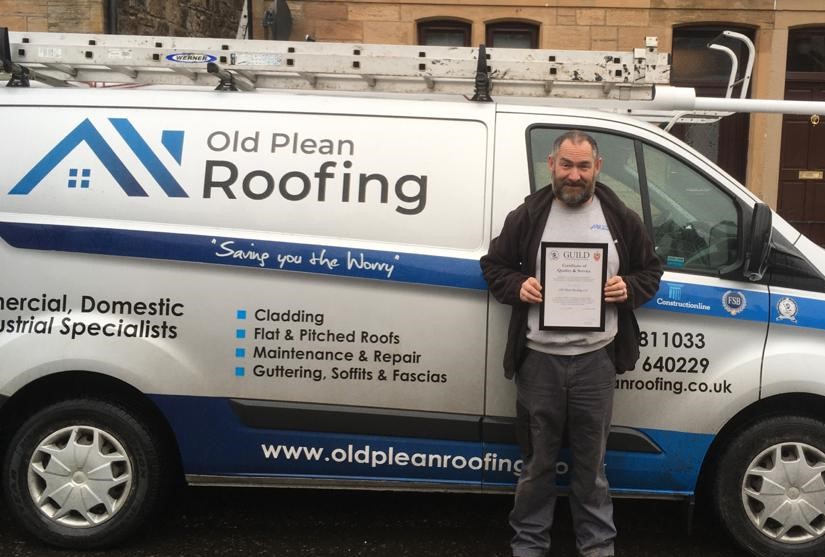 Mark Thornton
The company run by Mark and Fiona Thorntonis the first Scottish roofing company in seven years to be accredited by the Guild for its high standards and expertise.
The team, based in Old Plean, Stirling, is honored to be a member of the organization that represents both modern and traditional craftsmen and promotes excellence and integrity.
Fiona said, "We are very excited about this accreditation, which reflects the standards we have always strived for, as well as the type of high quality roofs we offer and the customer service we provide.
"When we founded the company two years ago, we did so with the aim of improving industry standards and providing the locals with an honest, efficient roofing service with a high level of expertise.
"Our philosophy is to invest in training and to promote the roof as a worthwhile profession and career.
"It is wonderful to be recognized for our work and to receive this seal of approval from an organization as respected as the Guild of Masters."
Mark added, "I've always been passionate about rooftops and achieving the highest possible standards for our industry.
"We are proud of our reputation and I am thrilled to have received this accreditation."
The Old Plean Roofing team was selected for membership of the Guild, the UK's oldest trade association, after a thorough screening process that included customer testimonials and an assessment of their workmanship and business practices.
The award underlines the company's commitment to first-class service and entitles it to display the guild's emblem, which is recognized as a symbol of high-quality workmanship.
The much Hon. Duncan Paisley of Westerlea, Chief Advisor (Scotland) of the Guild of Master Craftsmenwas pleased to welcome Old Plean Roofing as a member of the guild.
He said, "Mark and Fiona Thornton carry on the rich commercial and handicraft legacy of the historic 14th century guilds and embody the traditional values ​​essential to mastery recognition.
"I was overjoyed to see them accredited as members of the guild and they are to be commended for their undoubtedly practical skills, qualifications, consistently high quality of work and dedication to customer service.
"Old Plean Roofing are the first specialist roofers in their category in Scotland to have been inducted into the guild for seven years, so they should be very proud of what they have achieved."
Mark and Fiona founded Old Plean Roofing in January 2019 after several years in a row Thornton building consultant – a highly regarded consultancy providing technical advice on roofing to construction companies.
They decided to use Mark's 30+ years of industry experience to expand into the residential real estate market in central Scotland and Fife.
Since then, the company has hired new employees and now employs five roofers and one administrative assistant.
The Old Plean Roofing team specializes in flat roofs and also works with pitched roofs. This includes the repair of roofs after water, wind or theft damage.